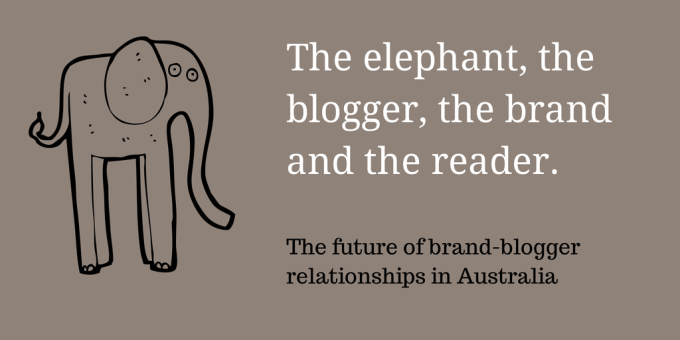 At the ProBlogger Training Event 2014, I joined Mandy Griffiths from Porter Novelli, David Krupp from Nuffnang, Adam Marks from Westfield and blogger Kate McKibbin from Drop Dead Gorgeous Daily on a panel to discuss the three way relationship between bloggers, brands and readers. Our panel was moderated by Nicole Avery of Planning With Kids.
Up until this weekend, the general formula for discussing the blogger/brand relationship at a blogging event went something like: "This is what we did with the brand, everyone thought it was great, all bloggers deserve to get paid more." It's what we all want to hear as bloggers, but we can't sit around patting each other on the backs and ignore the growing elephant in the room.
Ironically, minutes before this provoking piece "Shine starts to fade for mummy bloggers . . ." was published on Mumbrella went live, the elephant was pretty much invited to sit in the front row and offered the limelight by one of Australia's most credible and professional "mummy bloggers" (Avery) and our diverse panel of stakeholders in the blogger/reader/brand relationship. It seems we we all agreed on one thing:
to do business with a business you've got to act more like a business.
Opinion from the panel ranged from my advice for bloggers to be more professional in their approach and to act more strategically with solid objectives in mind, to straight out frustration at the lack of professionalism in the industry with Krupp literally naming the elephant (or blogger) that lets the side down.
There was no disputing that brands, and the agencies that act on their behalf, are starting to balk at the barriers thrown up by some bloggers' lack of business experience and professionalism, or at least are beginning to question their return on investment and effort calculations. Something this commenter (presumably a brand) made very clear on the Mumbrella article:
There's no way I'd spend my advertising dollars with these bloggers. The majority of their comments are from other bloggers trying to lure more readers over. After months of researching the country's most popular blogs, they seem more of a liability to my brand than anything else. They're extremely free with their uneducated political views, their strange parenting ethos and totally unconvincing in their product spruking. In addition, they're deathly boring.
SYD, 29 Aug 8.14pm
Ouch. As with most Mumbrella comments we can take that one with a pinch of salt, but the sentiment is out there, regardless of anyone's surveys or the results they use to push their own agendas.
When asked what I thought the future of this relationship between brands, bloggers and readers was going, I painted two options. One won't be very popular. If those in community who want to work with brands can't organise themselves and step up the professionalism, then they'll end up in the too hard basket more often than not. Bloggers shouldn't forget they're often already half way to said basket. Mandy Griffiths says PR agencies' hardest job is to fight for budget and convince senior executives that bloggers are worth the money. 
Which brings me to another point, what bloggers think they are worth is often unrealistic or at least naively calculated on terms that are pretty much irrelevant to a brand. Brands measure your value on output, not input. Not to say that your skills and time are not important and if you don't want to get out of bed for less than $3,000, that is entirely your prerogative. 
However, as a blogger you're operating in a marketplace, not a vacuum. If your rates include a premium for your time and skills, but someone else can deliver the same results  by spending less time or by better understanding the result and ROI the brand is seeking, then don't be surprised if you find yourself spending more time in bed while others are up getting the worm.
So it's not surprising that bloggers are seeking help from agencies and services like my own when seeking to understand their value and to help increase the professionalism of their approach. This is the path many are starting to go down in the hope they catch a ride to the brighter future I painted of a more sustainable, collaborative relationships based on shared understanding of objectives and delivery of value. In making your decisions, ensure you're happy with the focus of your representative and that it aligns with your own. 
A sustainable marketplace requires money to be spent, but it can't be all about budget. If bloggers (and agencies) don't deliver on value and achieving objectives, budget becomes irrelevant because it just won't be available to bloggers any more. Don't make Mandy's job even harder.
Representation isn't accessible to all with barriers of size/reach (talent agencies) or return on investment (bespoke service like AOI), but thankfully it's not the only (nor necessarily the best) way for there to be a thriving market of opportunity for all bloggers in Australia.  A focus on understanding the opportunities, objectives and how you can be relevant to achieving them will take bloggers a long way without representation. Investing in skills and attending events like ProBlogger Training Event will take you further along that right path.
But most importantly, working as a community in a more organised and collaborative way is the best chance bloggers have of being recognised as a relevant and viable channel, an industry even. Even more exciting is the prospect of a cooperative industry of creatives that can proactively benefit from the value it provides, rather than completely surrendering a too large share of the pie to interests focused solely on the commercial value of bloggers. As we all know, there's far more beneficial outcomes from blogging than being a channel to market and monetisation, and those unique features of the community need to be protected.
Whilst I haven't discussed the reader side of the relationship here, we did cover that in the discussion. In my opinion, if bloggers approach the brand relationship with eyes wide open and keep at the forefront the best interests of their readers, their own objectives for blogging, and an understanding of how they can be relevant to a brand, then they will be making wiser decisions about how they leverage their social capital with their readers.
So, the elephant is now sitting comfortably among us. Time to ask him some more questions and figure out how to get to that brighter future and keep our names out of that too hard basket.